ASCEND's camps are designed to grow strong minds and bodies in our region's youth. Caring, experienced ASCEND counselors will guide children through fun and developmentally appropriate activities, such as bouldering, yoga, slacklining, and more!
Week long half day sessions will be offered in June, July, and August!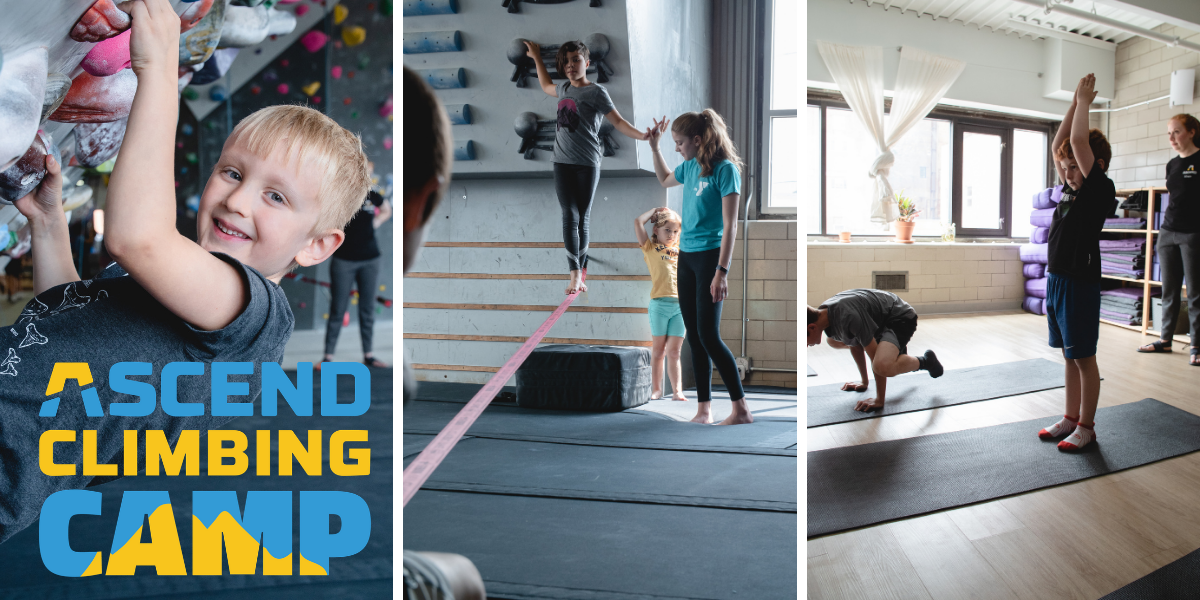 We are committed to an active lifestyle. We realize that all around fitness is key to climbing well, which is why we nurture activities like yoga, cross-training, and cardio, and promote smart nutrition and ample rest within our gym and community.
Suggested age range: 6-16 years old
Times: 3 hour day camp (Monday - Friday), 9:00am-12:00pm
Standard Pricing: $215 for one week of camp
Included: Climbing instruction, rental gear, ASCEND merchandise, good times
Excluded: Transportation, membership, lunch and snacks (okay to bring in), bad times
Availability: Each session is limited to 16 participants
---
---
COVID-19 Accomodations:
The number of participants in each camp session has been significantly reduced.
The majority of camp takes place before the gym is open to the public.
Our air filtration has been upgraded and the garage doors will be open as much as possible for increased airflow.
Participants will be formed into consistent small groups and kept with the same coach as much as possible. Participant interaction outside of their group will be limited as much as possible.
All camp staff and participants will wear appropriate face coverings at all times and observe 6 feet of social distance as much as possible.
Parent pick up and drop off will occur in the parking lot without family members exiting the car. Exceptions will be made for families who need to orient their children to the staff and facility on the morning of day one.
Participants are asked to bring in only the items that are necessary for that day. Each child will have a specified cubby to store their belongings that is cleaned everyday.
Every 2 hours our staff will be do a thorough cleaning of commonly touched surfaces.
All staff and participants will engage in frequent hand washing including before and after climbing or any other activity.
All staff and participants will complete a daily health screening and receive a temperature check upon arrival.
Any staff or participant that feels sick or exhibits any symptoms is encouraged to remain at home.